Public Speaking
Overcoming the Challenges in the Management of Obesity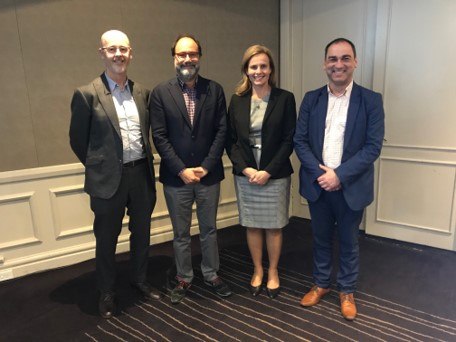 Featured in the photograph, left to right:
Assoc. Prof Michael Talbot, President of the Australian & New Zealand Metabolic Obesity Surgery Society (ANZMOSS)
Prof Arya Sharma, Chair for Obesity Research & Management, University of Alberta Canada
Dr Georgia Rigas, Chair: Royal Australian College of General Practitioners (RACGP) Obesity Management Network
Assoc. Prof Sof Andrikopoulos, Chief Executive Officer, Australian Diabetes Society
Dr. Georgia Rigas Appeared on Michael Mosley's Reset
Obese patients have the will, but can't find the way
"Obesity is not due to lack of willpower or moral fibre," Dr Georgia Rigas, the chair of the RACGP Obesity Network and a co-author of the study, said. "No one chooses to have obesity."
Measuring the BMI and waist circumference of all patients every two years should be the norm in general practice, she said.
"This study highlights the need to take affirmative action to stop fat shaming and weight stigma which is rife in the community and among healthcare professionals."
Obesity Australia Summit 2018: A new approach to a growing problem
Dr. Rigas is a well-known public speaker on issues related to obesity. She delivered a talk on behalf of the RACGP, to the Obesity Summit in Canberra ACT. In the past, she has participated in public-speaking events around the globe including Sweden, Athens, Vienna, and London.
Dr. Georgia Rigas talks about the effects of obesity & what you can do
Dr. Rigas talks about the growing obesity problem on 10 News First
Dr. Rigas talks about the obesity epidemic
We can call this an epidemic': Obesity rates double in 10 years
According to Dr Rigas, children with obesity are predisposed to type 2 diabetes, premature arthritis of the knees, fatty liver, infertility and other physical health concerns. There are also the emotional effects of obesity, which include bullying, depression, anxiety, and a higher rate of leaving school early, which then negatively impacts their future job prospects.