For Health Care Professionals Only
Medication absorption after Bariatric Metabolic surgery
It is important to broadly understand how the bariatric operations work, so then you can understand how/why the subsequent absorption of certain /common medications can be altered after bariatric metabolic surgery. See this article by my friend and colleague Teresa Girolamo, Adelaide.
TGA alert: caution if high vitamin B6 levels
I would like to inform you of a recent TGA health professionals alert, on Vitamin B6.
It contains a good summary of the issues as they relate to clinical practice, highlights some data around some new adverse event reporting and encourages health professionals to communicate with the TGA regarding new cases.
Weight stigma: Why everybody needs to act
Weight stigma is one of the most common forms of discrimination in modern societies, alongside racism and sexism, writes Dr Georgia Rigas.
It is estimated that 19–42% of adults living with obesity experience stigma.
Weight stigma has been well documented in a large variety of societal domains, such as education, the workplace, healthcare, and the media.
Weight stigma: causes and effects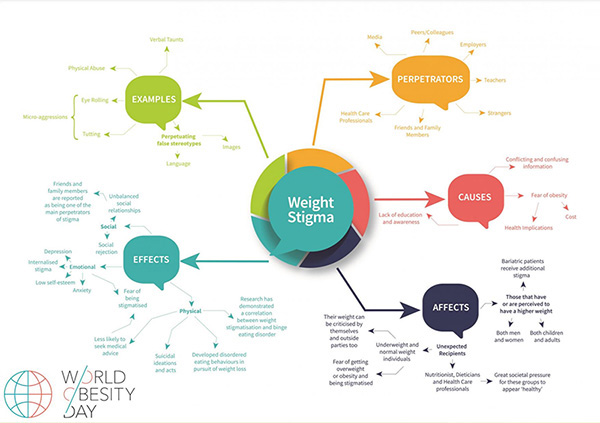 Image courtesy of World Obesity
Dear Colleagues,
In these for ever changing times, I thought I'd share these valuable resources with you.
Given we are all working in different therapeutic landscapes with different resources available to us, and different degrees of enforced lockdown, virtual consults are becoming increasingly utilised.
In this module there are two vignettes:
one possible example of how to conduct a new patient virtual consult with a patient living with obesity;
one possible example of how to conduct a follow-up virtual consult with a patient living with obesity
This is by now means the only way it can be done; nor is it meant to be prescriptive. Its to empower you and reassure it that it can be done during the time constraints of clinical practice.
Remember- obesity is a chronic progressive disease- we don't have to tackle everything in one consultation; rather we should work collaboratively with the patient -chipping away at it a little at a time.
I hope you find it and the other modules in this series useful.
Virtual Obesity Clinics Programme
RACGP Specific Interest Obesity Management Network
If you are a GP and would like to learn more about the management of people with obesity, please consider joining this Network of like-minded GPs.
The Obesity Management Network acts as an educational support, reference group and networking body for general practitioners with an interest in this area. Our knowledge about obesity, the factors that contribute to weight gain, and the different treatment modalities are constant changing and evolving as further ongoing research into these areas is being undertaken. The Network keeps up to date with and discusses a variety of evidence-based therapies for obesity management.
There is no fee to join if you are a RACGP member, so please email Pam at: [javascript protected email address]
For more information click on below links
You will need the Adobe Reader to view and print these documents.