Center of Excellence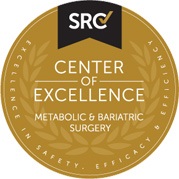 Upper GI Surgery was accredited with the Bariatric Centre of Excellence accreditation by the Surgical Review Corporation (SRC) in April. Dr Georgia Rigas was awarded Bariatric Care Specialist along with Tania Matisan (Dietitian).
What is the Surgical Review Corporation?
SRC develops and administers top notch accreditation programs for hospitals, surgeons and independent outpatient facilities across the globe. These programs are aimed at improving the quality and safety of healthcare while reducing treatment costs.
What does this accreditation mean for you as a patient?
The SRC accreditation means that your treatment will be taken care by skilled surgeons and health care staff.
You will be suggested cost-effective solutions for the best clinical practices.
You will be in the hands of care givers who constantly strive to improve and provide you with state-of-the-art treatment and rehabilitation methods.
Thus, you receive a holistic treatment that includes the latest techniques at an affordable cost, reduced complication rates, decreased length of ICU and hospital stays and better rehabilitation programs that help you recover faster from surgery.
If you are considering bariatric surgery, you can find out more about the different surgery options on our website, or alternatively contact our team on today to arrange an appointment or submit an enquiry online.